1b) Disk Stabilizer / Trivet Ring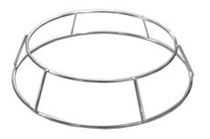 1b) Disk Stabilizer / Trivet Ring
Sturdy chrome wire frame ring, 8" top diameter, 10" bottom diameter (invertible) HIGHLY Recommended (see our videos on Instagram, FB, and Youtube of how we use them)

The Disk Stabilizer / Trivet Ring uniquely serves 2 purposes:
1.   Acts as a spacer and balances your disk when cooking inside on your sealed surface, glass electric cooktop, electric coil, or gas stovetop.  
2.  If you cook outside, bring your disk in and set it on this great trivet.  What else are you gonna use??
*Shipping:  Unfortunately we can no longer SHIP FREE outside of the United States or to Alaska or Hawaii.  However email me if you would like me to give you a shipping price quote.  Email me at info@bluemoondisk.com