4c) ALAEA Red Hawaiian-Style Sea Salt Small Grain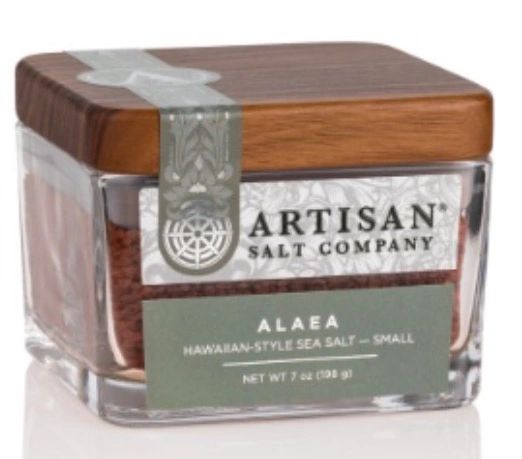 4c) ALAEA Red Hawaiian-Style Sea Salt Small Grain
ALAEA-Red Hawaiian-Style Sea Salt
Small Grain - Boutique Glass Jar (7 oz)
DESCRIPTION
Bright and flavorful, packaged Alaea Hawaiian-Style Sea Salt is almost as delicious as a walk along a tropical beach. Treasured for its beautiful brick red color, Alaea is all-natural: pure solar-evaporated sea salt is enriched with purified red alae clay from the Hawaiian island of Kauai, which helps to naturally seal in the moisture of meats when roasting & enhances the flavors of any dish. Pay homage to this stunning salt's origin by adding it to traditional Hawaiian dishes such as kalua pig, lomi lomi salmon and poke. Prized by chefs for its unique color and earthy taste, Alaea is perfect for brines, spice rubs, and seasoning grilled seafood and vegetables. Or, keep it simple and use it as a colorful replacement for your everyday table salt.

Small Grain: The crunchy crystals of Small grain Alaea are an ideal addition to BBQ rubs, brines and herb blends. This grain size is also a colorful and artistic way to finish grilled seafood and salads.

Boutique Glass Jar: Elevate everyday cooking with our boutique glass jar. Stunning set atop your kitchen counter or on the dining table, the sustainably-harvested American black walnut wood lids feature an airtight seal. We designed these jars to be short and wide, making it easy to grab a pinch of salt with your fingertips or a spoon. Refillable and reusable, this beautiful jar is a true keepsake.

*Shipping:

  Unfortunately we can only ship to the lower 48 USA with online orders.  If you want it shipped to Hawaii, Alaska, or Canada, email me at info@bluemoondisk.com to discuss shipping.