4d) 5 Alarm Salt - Habanero Heat Salt, Jalapeno Salt, Ghost Pepper Salt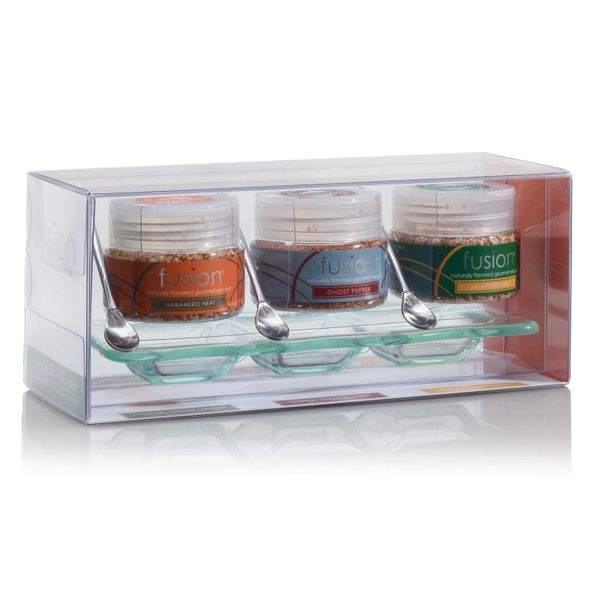 4d) 5 Alarm Salt - Habanero Heat Salt, Jalapeno Salt, Ghost Pepper Salt
The Hottest Salt On Planet Earth!
5 Alarm Salt: Habanero Heat Salt, Jalapeno Salt, Ghost Pepper Salt 

Each includes a selection of three full-size Fusion® All Natural fl avored sea salts, a glass serving tray, and three salt spoons

Habanero Heat Sea Salt: Habanero Heat Sea Salt combines ripe, intensely spicy habanero peppers with all-natural sea salt to make this superbly mouthwatering flavored salt. Add a dash to guacamole or fruit salsas for a kick.
Jalapeño Sea Salt: Jalapeño Sea Salt is a fresh, zesty combination of spicy jalapeño peppers and pure, natural sea salt. This hot salt fits in perfectly with Mexican and Southwestern-inspired cuisines.
Ghost Pepper Sea Salt: Made with the formidable Naga Jolokia, also known as the Ghost Pepper, and all-natural sea salt from the Pacific, this fiery blend is a favorite of heat-loving foodies and BBQ pit masters. Use just a pinch—a little bit goes a long way.
1 glass serving tray • 3 stainless salt spoons
Images and description provided by; SaltWorks, inc. www.seasalt.com (800)353-7258