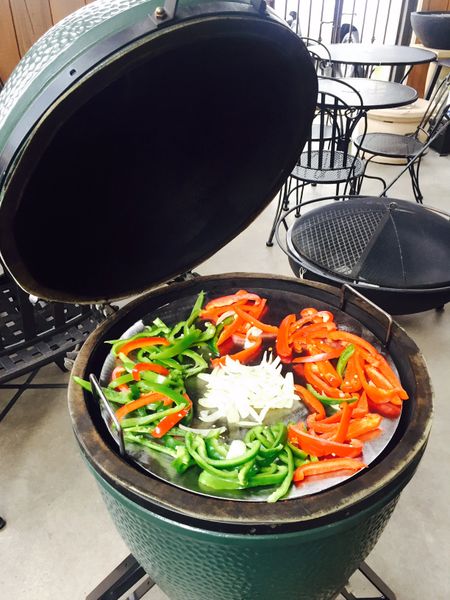 Kamado Grilling Disks
Authentic Hand-welded / Hand-polished / Authentic Plow Disk Cooking Pans that now fits inside Kamado Style Grills!
You asked for it and we listened! Steel rod handles pointed up now allow you to use on your Kamado-style Grill with the lid closed! Pictures show disk on a Large Big Green Egg and Vision Pro C. Easily handles enough food for the family and friends. Set your cooking temp to about 300 and hold'r steady. Great for cooking fajitas, chicken tenders, flank steak, Tilapia, blackened catfish, squash, zucchini...
** Each Online Disk purchase Includes: Burlap Storage Bag, Recipe Brochure, and for a Limited time 1 Free Bottle of Seasoning!
BMD-18" Fits inside size LARGE & XL Big Green Eggs. Will not fit inside Medium or smaller BGE. Low concavity edges at just 2" high. Your Kamado-style grill needs an inside diameter of 18-1/4". Highly recommended accessory is the "Disk Ring" so that the disk won't wobble in the BGE - Yes you can close the lid now on a Large BGE. The "Disk Ring" isn't necessary with Vision Pro C but its still recommended and cool to have!
** Caution: Blue Moon Disk handles get hot during the cooking process - Wear protective gloves/oven mitts when removing the disk from a grill. Blue Moon Disks are steel plow disks blades ( not cheap Chinese pot metal) so they can be heavy when loaded with your good cook'n - don't drop the pan on your foot!

** Kamado Grilling Disks can also be used on propane burners, if you want a recommendation on a outdoor propane burner, email me at info@bluemoondisk.com

*Shipping: Unfortunately we can only ship to the lower 48 USA with online orders. If you want a disk shipped to Hawaii, Alaska, or Canada, email me at info@bluemoondisk.com to discuss shipping.