1a) The Best Propane Burner - PORTABLE KAHUNA(TM) XL BURNER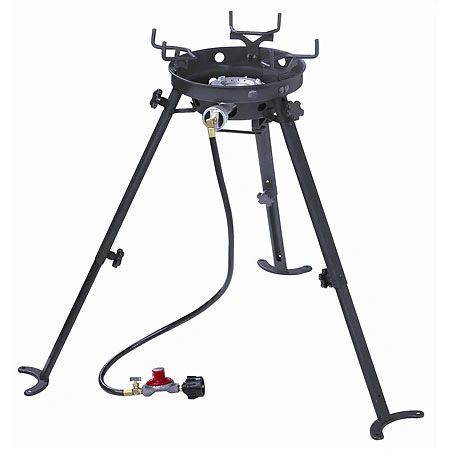 1a) The Best Propane Burner - PORTABLE KAHUNA(TM) XL BURNER
IN STOCK - READY 2 ROCK!  Shipping FedEx ground to you!  
This is the burner you want for cooking on your disk!   Its TALL, lightweight, sturdy, has removable legs, can be stored in its box, and did I mention its tall?...Yep this is the one. No more researching and comparing needed, no more cooking around your ankles on short burners, this is the one! This burner allows you to cook with your Blue Moon Disk about waist high. Cook Comfortably my Friends!
Also Includes: 
1 

free bottle (

nope lets make it 2 free bottles till end of the year!

) of Blue Moon Disk Seasoning! -

Who else does this?! Not Walmart, not anyone on Amazon or Ebay, nobody but Blue Moon Disk Co.  It's my thanks to you for supporting Blue Moon Disk Co.!

LIMITED 1-YEAR MANUFACTURER'S WARRANTY
This burner is perfect for bringing powerful cooking to the outdoors, the Portable Kahuna(TM) XL Burner delivers 65,000 BTUs of heat and is designed to handle pots up to 36 quarts, woks up to 18 inches in size, and Blue Moon Disks up to 22".  It's easily portable design makes it perfect not only for the backyard, but for camping, tailgating and more.

Exclusive propane burner has adjustable legs (18" to 26") making it perfect for not only the wok, skillets and small pots but also tall pots
Revolution(R) burner exceeds industry standards operating at 65,000 BTU
Patented construction allows it to burn hotter, cleaner and more efficiently using less fuel than other burners
Ultra portable design
Handles Blue Moon Disks, woks up to 18", and pots up to 36 quarts
Includes:

Adjustable, removable legs
Burner with safety shutoff
Propane gas regulator and hose
Powerful, well built and designed to take powerful cooking with you, the Portable Kahuna(TM) XL Burner is a solid tool for any outdoor gourmet. Add it to your order, and turn up the heat.