4e) SMOKEHOUSE TRIO - SMOKED SALT COLLECTION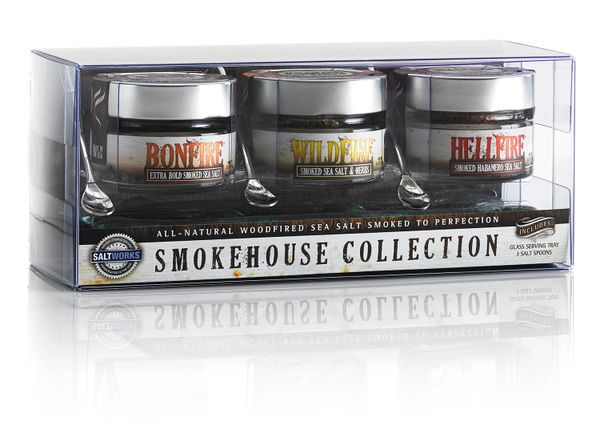 4e) SMOKEHOUSE TRIO - SMOKED SALT COLLECTION
SMOKEHOUSE TRIO - SMOKED SALT COLLECTION

Mouthwatering Smokehouse™ salts are naturally smoked over real wood to create intensely savory, wood-fired flavor. Packaged in gorgeous glass jars with a beautiful serving tray & salt spoons, these three distinctive varieties are the perfect gift set for more than just the BBQ or grill lover in your life—they are a must have for even the novice home cook. Add a pinch of smoky flavor to any dish, whether you like it spicy, herbed or extra bold.

The Smokehouse Trio contains:

Bonfire® Extra Bold Smoked Sea Salt: Naturally smoked with a blend of seven different woods over the course of 14 days—this Smokehouse salt is intense! Add a pinch of smoky Bonfire flakes when you need that powerful, rugged, outdoorsy essence.
Wildfire® Smoked Sea Salt & Herbs: Fresh garlic and rosemary are added to our Snowflake Sea Salt and then slow smoked over pecan wood, making it a rich and savory addition to our Smokehouse Trio. Try it as a finishing salt on chicken, pasta, vegetables or eggs.
Hellfire® Smoked Habanero Sea Salt: We add spicy habanero peppers and juicy limes to this mesquite-smoked variety for a tasty salt that is hot, smoky and slightly zesty. Finish any Mexican or Southwestern-inspired dishes with a pinch.
1 glass serving tray • 3 salt spoons 

Images and description provided by; SaltWorks, inc. www.seasalt.com (800)353-7258