What Is It?
Blue Moon cooking disks are steel agricultural plow disc blades converted to large cooking pans that are traditionally called Discada's, or Disco's in hispanic communities.  Across the SouthWest, they often go by other names such as Cowboy Woks or simply Plow Disk Cooking Pan's.  Blue Moon Disk's cooking disks are made the authentic way as experienced in Chihahua, Mexico - from plow disk blades and fitted with horseshoe handles.  Blue Moon Disks have very low sides, which is very different than an oriental wok.  The low sides allow you to move food from the hot center to the cooler edges - cooking on a Blue Moon Disk is an active sport!  Disk cooking is a fun and ideal way to cook outdooors for large groups of friends, tailgate events, camping trips, and get-togethers!
Fun article in Arkansas Wild Magazine! HERE
Fun article in Family Handyman magazine! HERE
Fun article in Arkansas Democrat Gazette! HERE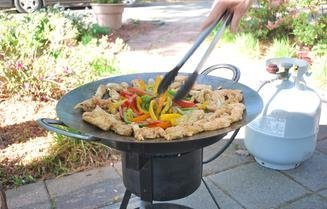 Our Story
I first experienced Discada or Disco cooking in 2005 while on a church mission trip to Chihauhau, Mexico.  On the last day of our trip, the local sponsors cooked for our group on several disk cooking pans - Taco's, Quesadillas, everything.  I simply had to have one!  However I had no idea what they were exactly or where you could buy one.  Back in the US, I couldn't find anything like it or anyone selling them so I put the idea on the backburner for several years.  However it keep bugging me and eventually I decided to make 1 just like I had seen, from an agricultural plow disk blade and horseshoe handles.  I made the 1st one for myself and invited a couple friends over, then quickly made them one, and have continued since.  Blue Moon Disk Co. has been in business since 2009.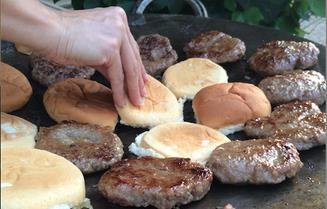 How To Use
Blue Moon Disks are best suited for use outside over an outdoor propane burner - like a fish cooker or turkey fryer propane burner.  However many people use them over coals, open fire, on a grill, and even inside on their stove top.  Disks quickly become hot in the center, but are cooler on the sides.  The cooking experience is hands-on and involves moving food from the hot center to the cooler edges.  When cooking for the 1st time, I recommend you lightly coat the entire cooking surface with vegetable oil, use a medium heat, and just start cooking!  Try a simple fajita type meal 1st -  Try cooking vegetables 1st like sliced onions, bell peppers, mushrooms....When those are just about done, move them to the outer sides and put your meat in the middle  sliced chicken, beef strips.....  Be ready to add a little more oil or water during cooking to keep food from sticking.  For a breakfast meal of eggs, bacon, etc... I recommend cooking the bacon 1st, move it to the outter edges, then add eggs.  Its easy to get the hang of it quickly.  For added bonus, serve the food directly out of the disk family style!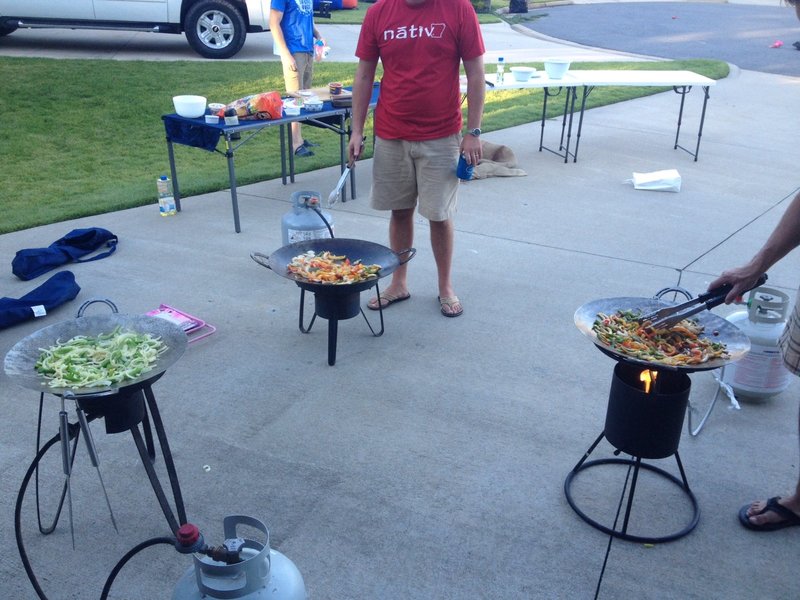 Seasoning
You don't have to spend much time trying to seasoning a steel Blue Moon Disk, just wipe if down on the cooking surface with vegetable oil before and after cooking.  If you are more traditional, a great way to start the seasoning process is to cook a piece of bacon and move it and the grease all around the cooking surface - this is a great way to start the seasoning process!   When you are finished cooking and ready for clean up, I recommend scraping food off with a wood food scraper, wiping it down with a paper towel, and lightly re-coating the entire disk cooking surface and backside with vegetable oil and storing the disk in a burlap bag or a dry place like the garage. Next time you are ready to cook, just wipe it off, lightly recoat it with oil and start cooking!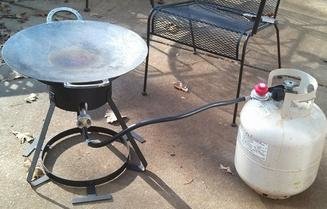 Basic Care
Blue Moon Disks are not fussy like Black Iron cookware. However Blue Moon Disks are made of steel and they will rust if left in a humid area unprotected, so it's important to keep it lightly coated with vegetable oil and stored in a dry place.  Storing in a burlap bag is a good way to keep it protected.  Blue Moon Disks are not afraid to be gently hand-washed in a little soap and hot water as long as you dry them off and lightly coat them with oil.  Some people report they never wash them but instead scrap off food, wipe it dry, then recoat with vegetable oil.  Your disk will continue to season over time with repeated use, but don't worry about it too much, just keep it oiled and dry and it will be an heirloom for generations.